Lex Neal
Robert Alexander "Lex" Neal


Born:

March 10, 1894, Chester, SC


Died:

July 4, 1940, Los Angeles, CA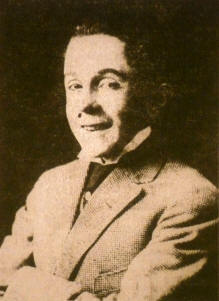 A vaudeville performer, Neal was a childhood friend of Buster Keaton's during their days in the Actors' Colony. A finished song and dance artist on the vaudeville circuit, Neal was managed by, and often performed with, Lew Earl, the honorary Mayor of Bluffton. As a solo act, he billed himself as the "The Beau Brummel of Vaudeville." According to a 1914 review, he was a "diminutive chap, weighing only 90 pounds."
"Now forecasts are dangerous," wrote another reviewer in the Cleveland Plain Dealer in 1914, "but it would seem that young Neal is a 'comer.' He has a real Cohanesque manner, he sings well, is an uproarious imitator, trips the light fantastic with most enviable agility and with far more enviably small feet and is altogether quite the 'fetching' Beau Brummel that he styles himself. He caused more commotion, he and his manager, the few minutes he is on stage than a whole three-ringed circus."
Neal's presentation of a song at a Actors' Colony Fourth of July party in 1915, summed up the vaudevillian's love of Muskegon.
"Rafters, cobwebs and all were nearly brought about the ears of the celebrants by the whole-hearted sing by its author of the ditty, which runs like this.
I've traveled 'round the world a bit,
since I was a lad ---
My father was a traveling man,
and I took after dad ---
I've been in London, been in Berlin, and been in gay Paree';
In fact I've traveled everywhere
you can go by land or sea.
I travelled around 'till I got tired; I
care no more to roam,
But wait until I tell you of this little
place called 'home.'

CHORUS
M-U-S-K-E-G-O-N
Muskegon, Michigan
That's the place for me. I always
want to be,
Where everyone is on the level,
And if you like can raise the devil
Down at the Clubhouse we'll meet again
And all sing this refrain ---
M-U-S-K-E-G-O-N
Muskegon, Michigan!

Mr. Neal's song, guests learned, is to be published, and its tunefulness and swing are expected to make it a real hit all over the country and prove a great advertising boost for this resort. It is to be sung in vaudeville on all the circuits next season."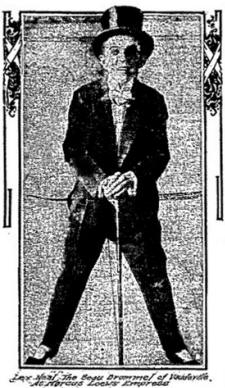 According to Keaton in his autobiography, My Wonderful World of Slapstick, "That first drink of mine was taken with Bluffton pal, Lex Neal, who was nineteen, two years older than I..."
Neal "had just been given the bushoff by the town beauty," recalled Keaton. "I'll prove I am your true friend...by not letting you get soused alone. I'll get drunk too."
Whiskey was the drink of choice.
The hang-over and the experience, according to legendary comedian, prevented Keaton from taking another drink of whiskey "until I became a soldier in World War I years later."
Like Keaton, Neal would end up in the Los Angeles area in later years, finding employment as a writer for various movies. In 1924, he paired with Jean Havez on a Monte Banks feature, "Racing Luck". He later joined his childhood friend, working as a screenwriter for Keaton on "Go West" and "Battling Butler".
An August 1926 press release noted that Neal had joined the staff of silent comedian Harold Lloyd.
"All the principal roles in support of Harold Lloyd in the mountain story he is filming for Famous Players-Lasky release are now filled...
With John Grey, for three years a scenario writer on the Lloyd Corporation staff convalescing from a recent serious operation at the Hollywood Hospital, Lex Neal has been added to Lloyd writing department. Neal has just directed four comedies for for William Fox and for a year was associated with Buster Keaton, co-directing with Buster his success, "Go West". He is recognized among the foremost 'gag' men in the industry."
He stuck with Lloyd's production company, working as a writer on Lloyd films, "The Freshman", "Speedy" and others, before later moving on to Paramount. At age 42 he was diagnosed as a diabetic and at 46, he passed away from a diabetic coma.
Thank you Lisle Foote for all the help on this one!

Make sure to support Lisle's fantastic research by picking up a copy of her incredible book, Buster Keaton's Crew: The Team Behind His Silent Films.